Volunteers
York Beer and Cider Festival is only made possible through the generosity of our volunteer staff of CAMRA members.
So we invite you to apply to come and ensure a successful and enjoyable festival. If you would like to join us, please read the information on this page and then fill out our volunteer staffing form.
It's not just whilst we are open Wednesday 14 - Saturday 17 September. Before and after is what makes the festival happen!
Set-up is from Wednesday 7 - Tuesday 13 September with the main activity from Friday 9 September as the beer is delivered and racked.
Take-down is Sunday 18 - Tuesday 20 September.
We would like (need) your help to turn an empty marquee into an amazing festival!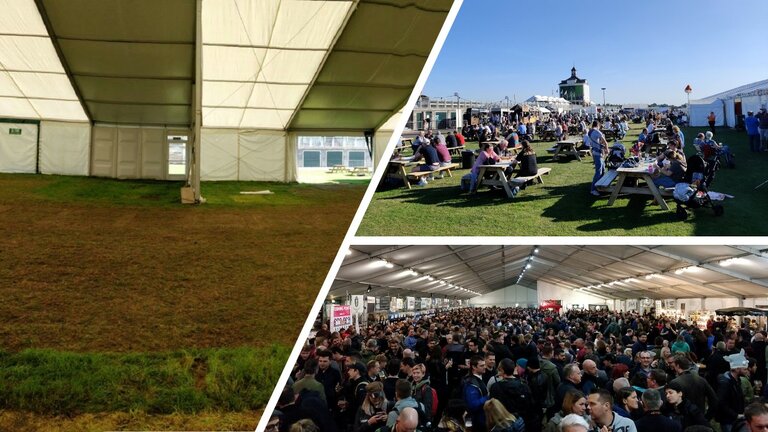 We have a wide range of roles available, before, during and after the festival and need people with a diverse range of skills. No experience is necessary as full training will be provided. When you work a full session either behind the bar or in another capacity we will give you a drink allowance and for more than one shift a food allowance as a thank you.
Please be prepared to work in other areas besides bar work for at least part of the time (but if you really don't want to work somewhere, no one will try to force you). We struggle to recruit sufficient volunteers in some areas (e.g. stewards, entrance) and these are as essential to the festival as serving the drinks.
Take down is also poorly supported which makes it harder, longer and more stressful for the volunteers we do get. Please consider helping with this, particularly on Sunday.
T shirts are available for all staff who register before 16th August. We will aim to provide a T shirt for people who register after this date but cannot guarantee this.
All volunteers MUST read these three documents: 2022 Staff Information, Volunteer Charter and the CAMRA Health and Safety Handbook for Volunteers which will download to your device. By completing and signing the staffing form you are agreeing to adhere to the health and safety and hygiene rules within the Handbook and other festival rules.
Once you have read the information the staffing form is available here: 2022 staffing form.
If you would like to camp at the festival (staff only) then please fill in the 2022 camping form. Please only fill in one form per tent/caravan.
We look forward to seeing you at the festival!
AND
We have a Festival party in early 2023 to say thank you.